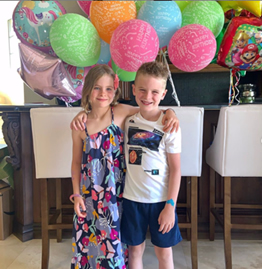 I hope you and your family and friends were able to enjoy some summer fun and celebration over this Memorial Day weekend. It was the twins' 7th birthday, and I'm ever so grateful for the joy and brightness they bring to our lives. They were excited to have a few cousins over for a pool party in the Arizona sun. You can see a quick birthday behind-the-scenes on my
Instagram here
.
Now, this week's episode of #GlambitionRadio is a little something different.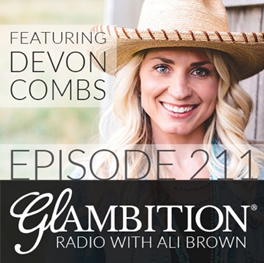 Healing can be found in the most unlikely of places. But for today's guest, healing and purpose was
hiding in plain sight
her entire life. Growing up in the 'horse world' as a competitive rider and enthusiast,
Devon Combs
always felt a close connection and appreciation for horses. Yet, it wasn't until she attended a 60-day addiction treatment program that she first experienced
equine therapy
… and her professional calling, as she would soon realize.
Devon has been named 'Equestrian of the Wellness World' by the esteemed Canyon Ranch resort in Arizona and is a globally-recognized Equine Gestalt Coach. On GlambitionRadio.com, hear how her Unbridled Retreatsprovide profound breakthroughs for women seeking to unlock the next level of their lives and are held across the country at luxurious locations including the Four Seasons Resort Lanai in Hawaii. Devon and her work have been featured on Good Morning America, Horsemanship Radio and in COWGIRL Magazine, Horse Illustrated Magazine, and Travel to Wellness Magazine.

I'm also honored to say Devon's been a client of mine! She'll share about our time together and how she has stepped into being a true business leader over the past year.
So head over to Apple Podcasts now to listen to this episode of Glambition Radio (or download it for later). And come join in the conversation on Instagram or Facebook.
Best,
PS — I would love your review. If you enjoyed this episode, please leave a review and comment on Apple Podcasts. Select 'Listen in Apple Podcasts' then choose the 'Ratings and Reviews' tab to share what you think. I would really appreciate it. Thanks!