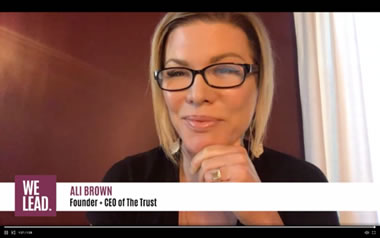 Happy Saturday! How are you holding up?
In between the (now familiar) routine of Zoom calls, homeschooling, and Door Dash deliveries, I was inspired to create something I've been thinking about for awhile.
Now it's here. And the timing couldn't be more relevant.
I'm thrilled to announce my brand-new Web show, 'We Lead LIVE', airing on Mondays + Thursdays at Noon ET/9am PT, starting this coming Monday, April 20.
It will broadcast LIVE simultaneously on LinkedIn, Facebook, and YouTube, and you can watch on any of those platforms.
I'll be interviewing some of the smartest 7- and 8-figure women entrepreneurs I know — many whom I've worked with personally.
We'll be discussing what they are doing right now during this turbulent time, and whether their power move is doubling down, playing it safe, or shifting gears completely.
Get ready for real talk, insider strategies, a greater perspective, and advice that actually makes sense. Because it's time. 
Pick your platform, set a reminder for yourself, and we'll see you there!
I think you'll find this completely refreshing.
Best,
PS — Be sure to follow me on your platform of choice and turn on notifications, so you'll never miss a broadcast. Remember, the show will be streaming live on LinkedIn, Facebook, and YouTube. See you Monday!